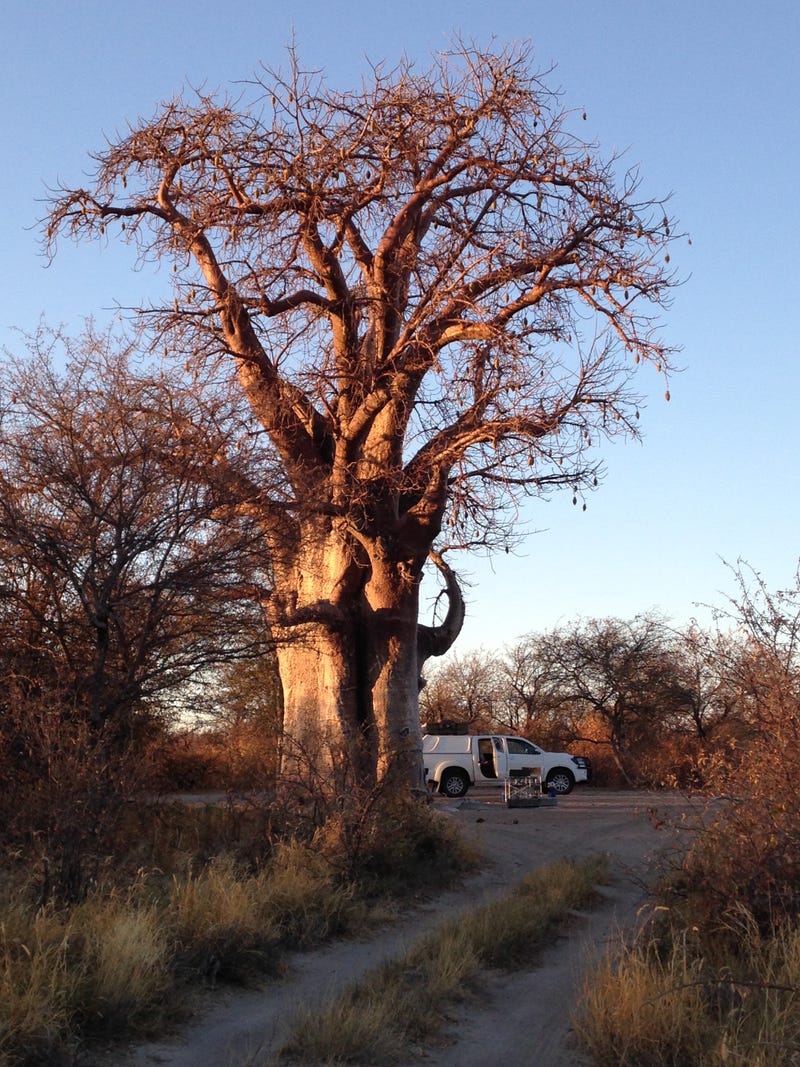 It's over, and it's hard to believe. As I posted earlier, my wife and I booked a two-week self-drive safari through Namibia and Botswana last month. It was by far the most ambitious overland adventure we've undertaken, and we loved every minute of it. (Well, not every single minute, but more on that later in the program.)

I wrote most of this poolside at a cozy guesthouse in Gaborone, Botswana's cheerful and fast-paced capital, as I was trying hard to even comprehend what had happened during the previous 15 days. It wasn't easy.
Two Notes:
(1) Except where noted, most of these photos are courtesy of my suspect eye and my iPotato. My wife is the photographer, with the real camera and the real lenses, and she gets the credits on the good photos. I'll share some more of those in later posts.
(2) I'm going to start with two posts about the truck we drove, and the tent we slept in - concrete subjects I can actually write about at the moment. The more metaphysical aspects of this journey are going to take some time to digest. In short, southern Africa rearranges your molecules.
2013 Toyota HiLux Raider
__________
The HiLux at rest - NamibRand Nature Reserve, Namibia
The myth. The legend. The not-for-North-America Toyota HiLux. They call it a "bakkie" in southern Africa. This was our overland magic carpet ride through Namibia and Botswana for two weeks. Let's start with some specifics:
2013 Toyota HiLux 4x4 in "Raider" trim (105,000km on the clock)
Four door double cab

3.0 L D-4D 4 cylinder intercooled turbo diesel

5-speed automatic

Traction and stability control (VSC), ABS with discs up front, and (quite large) drums in the rear

Manually selected part-time 4-wheel drive, with high and low range

Electronic locking rear differential

17" alloy wheels, mounted with off-brand Taiwanese mud terrain tires - Nankang "Mudstars"

Fog lights

Power retractable side mirrors

"Rental-spec" interior: cloth, full complement of gauges, remote central locking, A/C, cruise control, fuel/trip computer, basic ICE, including AM/FM/CD, Bluetooth, a USB port, and (with apologies to Regular Car Reviews) AUX JACK! Two 12v power points.

Some non-standard equipment installed by the rental agency:
Fiberglass truck-bed topper and roll bar

Headlight covers

Heavy-duty bull bar

Skid plates for the front differential, transfer case, and oil pan

Engel refrigerator with accompanying dual-battery system

Dual fuel tanks, for a total of 160 L of diesel capacity

In addition to the truck itself, the safari rental package came with a full complement of camping, recovery, and safety equipment:
Rooftop tent - Howling Moon 1.2 (more on this contraption later)

Bedding, including sheets, blankets, and pillows

Table and chairs, lantern, full kitchen with two propane tanks and stove, plus extra storage boxes

60 L water tank

Shovel, tow ropes, sand tracks, two full-sized spares, basic tool kit, first-aid kit, satellite phone, a very beat up Garmin Nuvi GPS

A pat on the back and a hearty "Good luck!"

The Rental Process
We booked the HiLux via our tour organizer, Andy, at Drive Botswana (we'll meet Andy later on). The rental firm itself was Asco Car Hire in Windhoek, Namibia. A cheerful and efficient bunch, they have a peculiar variety of vehicles on offer: everything from bad-ass lifted Land Cruisers and 4-month-expedition-ready Series III Land Rovers to Dodge Nitros (?), various Hyundais, and VW Polos. But, their bread and butter is the HiLux for self-drive safari clients like us.
After signing endless pages of indemnity agreements and liability waivers, Asco blocked $N20,000 (about $1400 US) on our credit card as insurance excess to be freed on the successful return of the truck in good condition at the end of the trip. Our rental agreement also came with 24 hour assistance in the case of break-down or any emergency we might encounter.
Frank from Asco then spent the next hour and a half walking us through the ins and outs of the HiLux, the recovery tools, the tent, and all the camping equipment. He was extremely thorough, and with a final top-off of the tank, we were set free into the wilds of Namibia.
__________
Salt pans, Nxai Pans National Park, Botswana
Driving Impressions
For my American counterparts: here's the deal. Despite the HiLux's near-mythical status, remember that this thing is a Toyota.
It looks, and walks, and talks like a Toyota. It's quiet and comfortable and starts every time like a Toyota. It rides smoothly on the highway like a Toyota. And, it's extremely capable off road like a Toyota. All this means it's also a little bit boring, like, you guessed it, a Toyota.
__________
With the tent unfurled, NamibRand Nature Reserve, Namibia. Giraffes snacked on this tree in the middle of the night while we were (not) sleeping.
The right hand drive situation notwithstanding, the HiLux felt familiar, which is handy when you're trying to negotiate axle-deep sand in the middle of nowhere, 10,000 miles from home.
The one and only aspect of our bakkie that immediately gave me pause were the generic Nankang mud terrain tires. They were kind of beat-up, and probably about half-way through their service life. The tread pattern didn't inspire confidence, and as we know, traction is paramount out on the trail. But, while they were a little noisy on the highway, they never once failed to find grip when I needed it most. Good job, Mudstars.
__________
Airing down, Central Kalahari Game Reserve, Botswana (Photo: JB Edwards)
The 3.0 liter 1KV-FTD engine seemed overmatched by the bulk of the truck in many situations, especially passing on the highway. It wheezed at the top of the rev range, and the automatic transmission's reluctance to kick-down on full throttle didn't help. It was very quiet by diesel standards, however, which is nice when you're trying not to scare away the wildlife.
HiLux owners seem universally to rave about the D-4D, and all the South African 4x4 magazines lionize the diesel mill. Even our tour organizer Andy claimed that the D-4D in his own Land Cruiser was the best diesel that Toyota ever made. He praised the older design, which he credited for its robust reliability. But, honestly, I didn't really see the appeal. I suppose it's probably a step-up from the 2.5 L four cylinder diesel that's standard equipment on the base model.
__________
You want the D? We got two of 'em. Note the big-ass air filter housing and the auxiliary battery for the Engel fridge that kept my beer nice and cold.

The big four-cylinder did return what I thought was acceptable fuel economy for the white whale, 8.1 km/L over the course of the whole trip, and about 11.5 km/L average on the highway. We spent 85% of our time in four-wheel drive, and often buzzing around in lower gears at relatively high revs negotiating deep sand. The truck's high profile and the bulky rooftop tent I'm sure did not contribute to lowering the cD. Considering it currently costs about $120 US to fill both tanks in Botswana, the decent economy was welcome.
__________
Lunch with the HiLux, Central Kalahari Game Reserve, Botswana (Photo: JB Edwards)
Steering was light, but surprisingly communicative, which was helpful in negotiating uncertain traction situations, of which there were plenty. The HiLux never once wavered or misstepped the entire trip.
The endless and bottomless sand that characterizes off-road driving in this corner of the world probably would have made me sweat in my XJ. But, it was hardly a second thought for the Toyota, especially with the rear diff on lock down. It went everywhere without a single complaint - I don't think we ever really challenged it. Clearance, even on the stock suspension and ride-height, was not an issue.
__________
On the road, Nxai Pans National Park, Botswana (Photo: JB Edwards)
The interior was Toyota-logical and screwed together tightly. For a 100,000km+ rental car that undoubtedly had seen some abuse (and experienced some at my hands as well), it had almost zero squeaks or rattles. The seats were firm and surprisingly well-bolstered both at the ribs and the hip, a boon for keeping me planted on off-camber maneuvers. They were also comfortable enough for the hours we spent sitting at waterholes watching wildlife. I never really felt seat-fatigue at the end of the day.
_________
NamibRand Nature Reserve, Namibia. Basically a sandy version of heaven.
Quibbles? Not many - I thought the HiLux was a bit larger than I might have liked. Many of the tracks and trails in central Botswana are quite narrow, and we found ourselves constantly scraping the truck with thorn tree branches on both sides. The power folding mirrors were a definite plus in many of those situations, but I could hear the deductions ringing one-by-one off my damage deposit. As it turns out, Asco didn't charge us a dime.
About two thirds of the way through the trip the VSC conked out, and no amount of cycling through the ignition or disconnecting and reconnecting the battery would coax it back to life. When we called Asco to ask about it, they offered to bring us a brand new truck that day out in the middle of nowhere in the Kalahari, but it didn't seem to affect performance traction or braking-wise, so we let it be.
__________
On the ferry, Boteti River, Khumaga Camp, Makgadikgadi National Park, Botswana
Final Thoughts
At the end of the trip, Asco dispatched a driver to meet us in Maun, Botswana so he could bring the HiLux back to Windhoek. After some damage assessment formalities (none to note but for a handful of thorn scratches and a broken handle on the lantern), I signed the release form, and with a little sadness our four-wheeled adventure came to a close.
Frankly, it's hard to be an objective observer about this efficient, honest, and uncomplaining truck. It drove us to what seemed like the moon and back.
Because of the situational "x-factor" I give this HiLux a rating of:
A+++++++++++++++++++++++++++plus. Plus.
Of course, a clapped out '83 Isuzu Trooper with a slipping clutch and an ashtray full of old butts would have gotten the same rating.

Next post - a review of our wonderfully frustrating, but frustratingly wonderful rooftop tent.
_____________________________
Lead photo: Baines Baobabs at sunrise, Nxai Pans National Park, Botswana

When he's not daydreaming about Moab, Namibia, and tire pressures, mtdrift writes from his home base in the Last Best Place, Montana.