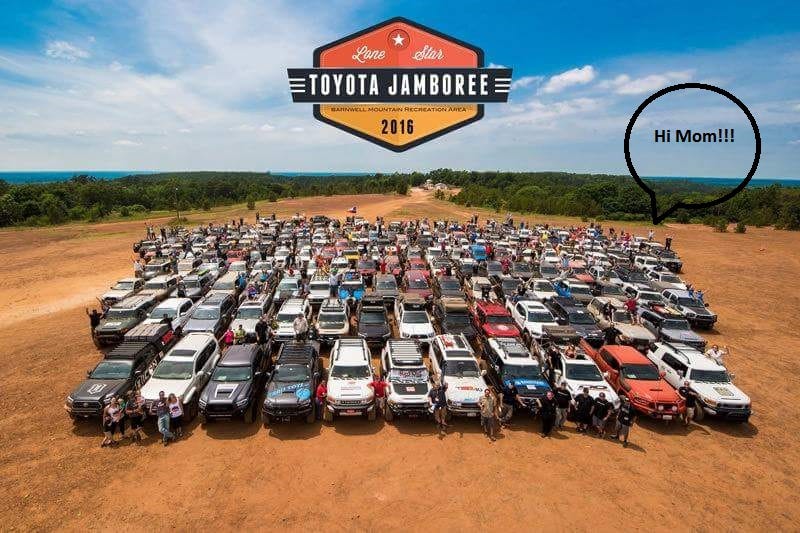 So last weekend was the Lone Star Toyota Jamboree.
320 Registered vehicles and who knows how many people made this yet another fantastic weekend of wheeling the trails, camping and camaraderie. It's been a week of trying to keep busy at work, editing video in the evenings, and jonesing for another great weekend like last weekend!
I got off work on Thursday afternoon and headed east toward Gilmer, TX. Along the way, I met my buddy Brian, topped off the tank and the new cooler.
We pulled into Barnwell Mountain Recreation Center at 5pm, with enough time to Register and hunt for a good campsite.
We drove around the perimeter on the main road looking for spot. Two months ago I had joined an offroad club. ArkLaTex Offroad is a regional off road group, not specific to any make or model. We have a campground that some of the older members had cleared out at the park. I had heard it was already crowded, but when we pulled into camp, it was damn near deserted. Some friends of ours were camping in a different area, so we "acquired" their spot for the weekend.
We got settled into camp, aired down for the weekend and gathered wood.
My friend Dennis and his wife Nikki were camped next to us and showed up around dusk to sit around the fire and BS. We were all looking forward to our first trail ride in the morning. We had some folks meeting us at the entrance in the morning, so that we could take them on some of the easier trails.
Friday morning found me up at sunrise making coffee and heating up breakfast tacos my wife made for me. Yummy!
Dennis drove toward the front to meet the guys. Brian and I left camp a few minutes later and met the convoy halfway to the front. We turned around and hit one of the fun trails at Barnwell Mountain named Clydes Ravine.
From there we headed toward Scorpion Overlook, a fun trail that ends in a steep 25 degree hill. (Give or take a degree)

Here's about a 9 minute video Dennis and his wife put together of that trail run:
11 minutes or so of my video of Scorpion Overlook.

Next Dennis took us to Skyview on the way to find another trail. It was a fun descent down another steep hill.
After these fun trails, we all headed up to the main pavilion for a bite to eat and to make rounds of all the vendors tents. After lunch Dennis, Brian and I hit a trail or two before some friends of ours showed up late.
Here's another video of the trail:
We met a nice guy named Jose from Venezuela who tagged along for the trail. We ended up wheeling together a few more times the next day. This is his rig coming down the hill on Binder Blvd.

Pablo and his brother Alex were up till 4am the night before working on their rigs. Only the Tacoma made it out this year. If I remember, the GX had issues with tire fitment. Alex & Pablo made it out just after lunch and we were able to get them into a campsite next to us. They brought along another new friend and old wheeling buddy, Keith.
Keith also drives a Tacoma and wheels the crap out of it!
We got them set up at camp and hit the trails. We did one called "Solihull Street" and then hit the trail back to camp on "Louisiana Backroads"

Right before dinner we took an easy trail that ended on a tough climb.
Dennis blew out two sidewalls on the rocks and had the smarts to drive like hell to flat ground before they deflated all the way.

We put his spare and mine on. He was able to drive to Longview, TX in the morning to pick up some new BFG AT's at Discount Tire. He was back wheeling by 11am.

The sun went down just as we swapped out the tires. My new LED Mall crawlin light bar came in handy to light up the situation.
We ended up eating dinner (Some amazing Jambalaya) at the main pavilion. Afterwards we went back to camp and sat around the fire reliving the day's adventures.
Saturday I was up at sunrise again making coffee. Everyone slowly got out of bed... Even Pablo after he heard the "Baby" cry. (He's a new dad)
For whatever reason, we took our time hitting the trail that last day. However we made up for it by hitting some GREAT trails.
Most of what we hit are considered 3 out of 5 diamond trails.
Of course I took some more video.
Here is "Jeepy Hollow", one of my favorite trails from this trip.

Another new favorite is "Politician". It's a short loop, but has some good technical wheeling.
After lunch they have a "Group Photo" and everyone lines up to get their moment of glory at the event.
From what I understand, people were lining up early this year. We got in toward the back of the pack. I saw some familiar faces and new faces in the crowd. Here's my view of the photo shoot.


The last trail of the day is "Chaos Canyon". It's labeled as a 4 diamond trail... and with good reason!
Brian led the way down . "It's just another dirt road" he says... Yeah.
The first descent is exciting and do-able.
We had our usual group plus a Land Cruiser and 2 4Runners join us going down.

The next section see's Brian almost nose into a hole we missed when scouting the trail ahead.
We hooked up the winch and pulled him back. He then proceeded to take the correct line to the left and traverse the canyon. I didn't have my camera at the time but got it in time to film Pablo do the same one with his Tacoma.
Well needless to say, I didn't have the cojones to join Pablo and Brian. The rest of us did a few 10 point turns on the trail and went back up the way we came and called it a day on the trails.
The last night of Jambo has a big BBQ dinner and a raffle. Last year I won a set of TRD wheels from TRD Parts4u. This year I wasn't so lucky. Oh well, you can't win them all.
The folks that put on Jambo brought out "Women Rock", a nonprofit that helps women in all stages of cancer. There were a lot of touching moments, a lot of folks stepped up and helped raise roughly 11K this weekend.
So I didn't win, but my friend Pablo won a roof rack for his Tacoma.
After the raffle we all head back to the campsite for some sitting around and more stories of the days wheeling. Pablo pulls up in front of my FJ and I turn on the light bar again. Time for some midnight mods!

Sadly, Sunday morning found us packing up the camp, putting out the campfire and airing the tires back up.


I was the last one to leave camp... I met Keith in town while topping off the tank. We convoyed back to DFW, stopped and had a good lunch and great conversation. I made yet another new friend at Jambo.
Here's to next year, folks!!!