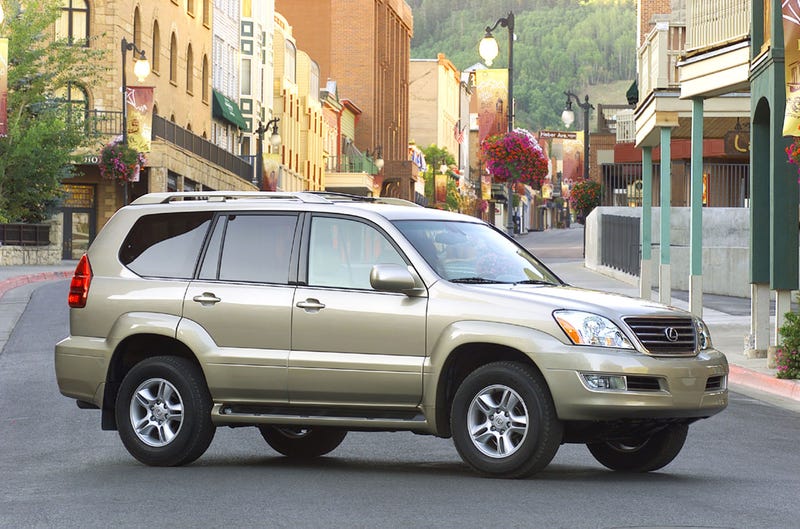 (Photo Credit: Lexus/Toyota Pressroom)
A little while ago I wrote up an article comparing 17 new vehicles on the market that were ideally suited to adventure travel and almost immediately I started thinking about how I could apply this to the used market. Realistically the used market is where most of us will go in looking for a dependable and durable vehicular travel companion after all. Then the thought of trying to track down and catalog the dozens of possible contenders and rank them in a similar manner made my brain explode. After picking up the pieces and regrouping I settled on the idea of picking just one doing a small write-up about it, I call it "Overland, Under budget".
Previously I wrote about the Mitsubishi Montero SR, but Today's entry has something more of the upper crust about it. The Lexus GX 470 (2005 model year). This vehicle won't sound familiar to you unless you live in the United States or Canada because outside of the Lexusverse it's known as a Toyota Land Cruiser Prado J120, or just Prado and let's get one thing out of the way right now: A Land Cruiser Prado is a Land Cruiser, just light duty.
I picked the following criteria and did the best homework I could, but I'm still probably wrong in lots of places.

---
ABILITY – How far can it take you. What are its true off road chops

LONGEVITY – How's it holding up in its old age.

SUPPORT – Aftermarket, community support and parts availability.

LIVABILITY – What its like to actually live with.
---
The J120 is known for many things, for instance it's the foundation for the FJ cruiser and the 4th generation 4Runner. It's also earned a serious rep that varies depending on market; In Australia for instance the Prado name is revered as an affordable, small, light duty adventure machine that can take a hell of a beating.

In the US its known for encasing wealthy mid 30 something women for which forever 21 isn't just where they buy their clothes, it's a way of life and why is that guy honking at me, I didn't do anything wrong?!

ABILITY
---
(Photo credit: Toyota/Lexus Pressroom)
The GX 470 showed up in the US in 2003 with the venerable 4.7 liter iForce V8 from the 1st Generation Tundra, 100 series Land Cruiser and 4th gen 4Runner V8. The 2UZ-FE is a larger iron ruggedized (iron block vs alloy) version of the V8 made for the LS400 and has earned a reputation for strong low end torque and unkillable reliability. For 2005 VVT-I was added to both cams for 270hp at 4800 rpm and 330 ft-lbs peaking at 3400 rpm with a very flat torque curve (revised to 263/315) on premium fuel, giving it plenty of grunt and down low where it matters. The J120 is a fully boxed steel frame with independent front suspension and solid axle 5 link rear suspension, coil sprung all around. This means 2 things
(photo credit: Ih8mud.com used by permission)
1. It's actually ready for work when asked, which is probably more than can be said for its driver.
2. It's a heavy sucker.
Curb weight is roughly 4900 lbs, but like a slightly overweight former athlete, it handles its weight well. The axles are shared with the 4Runner/FJ cruiser and are generally known for their durability though they aren't the larger stronger units in the 100 series Land Cruiser. Sadly the axles contain fully open differentials. The reason that I chose the 2005 model year was in the introduction of the KDSS (Kinetic Dynamic Suspension System) that obviates the need for a sway bar disconnect by managing sway bar compliance hydraulically without user intervention or electronics. KDSS is used on the current Land Cruiser 200 as well as the 4Runner trail, and is a very effective and trouble free system and with it trail articulation is very good.
There is a dual speed transfer case (2.72:1) with a Torsen center differential with manual or automatic (in 4lo) locking feature. ATRAC (Active Traction Control) is fitted as standard as works much like all these brake based systems and is effective, though not as capable as a true locking differential.
(Photo Credit: Toyota/Lexus Pressroom)
The GX also had active dampers with 4 settings for firmness. You also got, unfortunately, an active ride height control with air springs for the rear axle…boo air bags, right Doug DeMuro? Fortunately, converting back to coil springs is relatively strait forward once that breaks. Decent enough economy (14 city 18 highway) and a large fuel tank of 23 gallons means range is decent and with 6500 lbs towing and 1425 lbs payload as well as a generous 77.5 cubic feet with the rear 2 rows folded and or removed means if you can't take it in or with a GX 470, you probably don't need to bring it.
(photo credit: Ih8mud.com used by permission)

Off road, the GX is way more capable that it leads on. Angles are low at 30/25 and 8.3 inches of clearance stock, but can easily be remedied with lifts and tires.
LONGEVITY
---
The good news is that 2005 isn't that long ago, so finding decent examples with minimal wear is easy, the bad news is that they tend to hold their value well. All things considered I think right now is the sweet spot of depreciation and availability. I found several examples in the 18 grand range that were low mile and in great shape. The 2UZ-FE is good for 200,000-300,000 miles or more easy with easy maintenance and the occasional timing belt, however it's also known to be a major PITA when the starter motor goes as it's nested in the V under the intake plenum. The other interesting thing is the A750F/E is factory sealed, with no dipstick, filler, or breather line as it's designed to be service free for "the life of the vehicle". What that "life" consists of is anyone's guess, but the good news is that they have good reputation for not breaking…ever…and because it doesn't have a breather you don't need to worry about water/dirt contamination.
The Land Cruiser line generally is known for its durability and longevity and the J120 is no exception. The leather may crack and the navigation unit WILL be horribly outdated, but the mechanical will be solid all the days you own it provided you keep up with maintenance. There is an issue with the active suspension going out, but if/when it does inexpensive high quality aftermarket units of a conventional nature are a good replacement.
(photo credit: Toyota/Lexus pressroom)
The long and skinny of it is that it's a Land Cruiser which means that it will last. Want proof? Check here

Known issues:

Driveline clunk (shunt)

Some gear vibration at 65-70

Leaky Airbags

Generally truckiness unbecoming of a Lexus

SUPPORT

---
Support for the GX 470 itself is as soft, as you might expect, but because it shares commonality with the Prado/FJ cruiser/4Runner aftermarket parts are plentiful and of high quality. And because it's basically a Toyota and relatively new, replacement parts are reasonably priced and highly available, even outside the US.
Bumpers, suspension, gears, etc. are all available from major manufactures.
(photo credit: ARB)

The online community is fairly strong and you should find the support you need for technical or informational support.
LIVABILITY
---
The truth is that most overland travel takes place on the tarmac and not on the trail and so a good overland rig needs to be both a beast of burden…and not a beast or burden.
(photo credit: Toyota/Lexus pressroom)

Good news here again, the GX 470 was a delight to drive. Quite would be an understatement, the transmission was silky smooth and the dynamic suspension and KDSS meant that it was very flat and stable at speed. Acceleration was decent (8.1 to 60) with a nice V8 noise and braking is fair. For all its off road nature, it's a very good on road car. I mean it HAD to be to cement it as the 4Runner for the Country Club set, right? It's not the best looking vehicle but it's probably the first Lexus to look better than its Toyota counterpart.
(Photo credit: Wikipedia commons)
The GX is something of a dirty little secret in the overland and off road world; No one suspects the Spanish Inquisition GX 470. It's easy to find examples that lived an easy life and equally easy to prep it for serious off road duty. The fact that the GX 470 as capable and underutilized as this as frustrating as dealing with one of their drivers on the road "Hold on Samantha, some jerk is honking at me for whatever". Lets fix that.