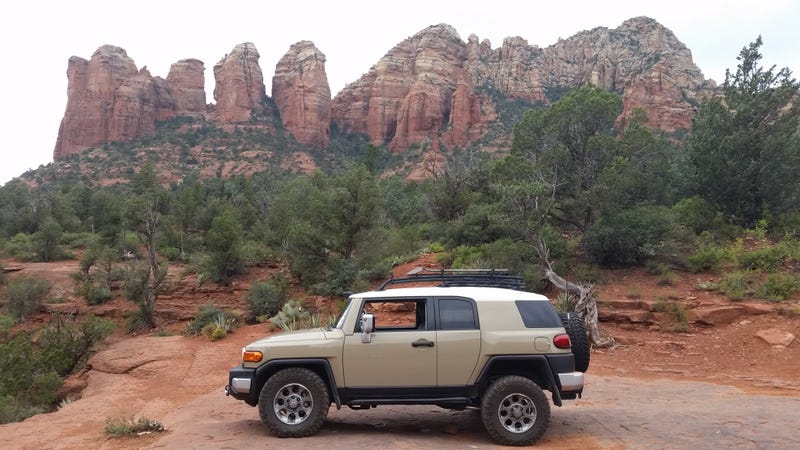 (I'm calling this the "overland" due to the fact that we had to drive 900+ miles to get to our destination, Sedona, AZ in order to do the expedition parts)

The month of August found my wife and I antsy to be getting out of town.
On Friday morning we woke up early and had the FJ loaded before 5am.
We had roughly a 9 hour drive that day to Albuquerque, NM. with stops along the drive at whatever caught our eye. The 2nd day was only a 5 hour drive to Sedona, AZ.
From DFW to Amarillo on Hwy 287 there isn't a whole lot to see. All those stories about driving through Texas taking forever is true.
It took us about 5 and a half hours to get to the first "Tourist" site of the ride... "The Big Texan" steakhouse in Amarillo. There are signs along the highway saying "Free 72 oz steak" as you get closer and closer to it. This is the place you may or may not have seen on the Food Channel and Fast & Loud where IF you can eat the 72 oz steak, a baked potato and salad within an hour, you get it free.
We didn't stop there for lunch, instead opting for more of an out of the way place called "Calico County" restaurant. I would highly recommend the Chicken Fried Steak.
Not too far past this restaurant is the turn off for the Cadillac Ranch... and we missed it!!! I wanted it to be my first "Route 66 roadside attraction". We hit it on the way back a week later.
Leaving Amarillo and entering New Mexico brought the reality of the road trip into focus. The landscape changed from field after field to a desert vista as far as the eye could see. My wife & I were fascinated with the big wind turbines going around and around. Opening the windows you could hear them whining as they whipped around in the high wind.
Across the northern end of New Mexico the elevation started rising as we got close to Albuquerque. Next thing you know, we drop down around some winding highway into town. We had made a reservation at a boutique hotel in the historic district called the Hotel Parq Central.
If you're ever in town for a few nights, this is the place to stay.
Legend has it that it's haunted, as it used to be a children's psych ward back in the early part of the century.
We hit the rooftop bar for drinks, walked down into historic Albuquerque to find the "Standard Diner" another food channel recommendation, for a great dinner.
Next morning we hit the road at 9am after a decent continental breakfast downstairs off the lobby.
First order of the day was to make it to Gallup, New Mexico.
When I was about 4 years old, my father worked for the Bureau of Indian Affairs, and was stationed in Gallup. I remember a lot of desert, horny toads and bright beautiful sunsets. After crossing more impressive desert landscape for 2 hours, we came upon Gallup. All I knew was the name of the cul de sac I lived on. Ute Circle was the name I plugged in and lo and behold, we found it!
The owners of the house were there when we pulled up. They probably thought we were nuts, but they were intrigued by my recollection of the times in that house. It was more reddish pink when I lived there...
Also in Gallup is the old "Rancho Hotel", home away from home to the stars, back in the day when they'd film westerns out that way.
For you car guys, I parked next to a Hot Wheels Scion driven by some Japanese tourists doing the Route 66 thing.
Leaving New Mexico and Driving into Arizona brings lots of Indian stores and more desert landscape. We were anxious to get to Flagstaff, which we knew would mean Sedona is just down the road. Well the fuel was getting low and I remembered there was a specific corner I wanted to stand on and take a few photos while I'm at it. Yep, you guessed it ;)

A T-Shirt purchase later we were back on the road...
Next stop: Sedona!
Part 2 will have more of my "expeditions" including Schnebly Hill Rd, Soldier Pass, Driving into the Grand Canyon, Jerome and Broken Arrow trail.