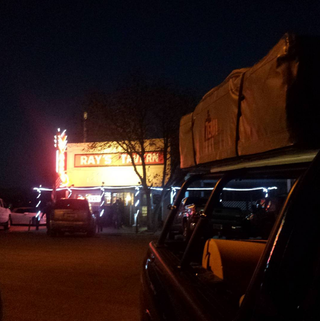 So I have been looking into getting a rooftop tent for a while and I have been trying to talk myself out of it but I just couldn't any longer. So when my wife gave me a disgruntled "OK" to buy a rooftop tent, I was on the prowl for a good deal. A month or so later the REI "20% off any full price item" coupon came in the mail and i jumped on the opportunity and now I am the owner of a Tepui Kukeman Sky. I got the tent last Wednesday and installed it that night. No problem since I made my roof rack last year, everything was pretty much ready to go.

Also this was the last week of my grad school class for the year. So I had been planning on getting away for the weekend to get down to Moab and get in a ride, weather pending, on my favorite bike trail. My last assignment was tricky and I was worried I wasn't going to get it done before the weekend (it was due Saturday night). Luckily a classmate of mine had equal ambitions to get the assignment done before the weekend, so we put our heads together and finished the final assignment (it wasn't a test so we weren't cheating). Success! Now my schedule was open for some fun.
I called my round of biking buddies to see if any would like to join. Sadly many had to decline and there were only 2 left that would join me. There was my little bother, who never has anything better to do, so he is always available. Then there was Pat (who you all know) was miraculously available at a moments notice, even though he had biked less miles in this year than we were planning on riding on this trip.
We got out the door at a decent hour Friday, so we got on the road and beat the traffic heading out of town. We stopped in Green River and grabbed a juicy burger at Ray's Tavern before heading south to find our campsite. Nice thing about going to Moab in Utah, campsites are a-plenty but since we had the RTT and we were planning on doing some exploring in the morning North of town we decided to park a little more remote this time. After driving around a couple miles and a couple missed turns we found a decent spot with a level surface and a fire-ring.
I will admit when I was getting the tent setup before I had left on the trip I was nervous I had made a bad decision because I had a hard time figuring out how it all worked. If this wasn't going to save me any time it wouldn't be worth it right? If that happens to you don't panic like I did, just be patient and you will learn that it is pretty easy. By the time we got to the campsite, the tent went up with no problem. Since I had all of my sleeping gear placed in the RTT already, getting everything ready was a snap . This gave us plenty of time to chill by the fire and BS for the next couple hours before going to bed. Did I mention it was cold that night? It was freezing temp by the time we went to bed and it would be well into he 20's before dawn. Luckily we all knew what was in the cards and we were prepared. We all slept pretty good for despite my little brother sawing logs all night.
We woke up had a light and fast breakfast. Got everything stowed away. (again was much easier than the first time) and headed out to drive around and explore the roads close by while we waited the weather to get up to biking tolerable weather.
After around 11:00 we set up the shuttle car we set at the bottom of the Portal Trail near the beginning of Potash Road. We got ready and we shuttled the bikes up to the top of Gemini Bridges Rd. Below is the trails we would attempt to traverse. 20 miles 3200 ft total climbing and a whopping 5000ft of descent! Bring it on!
Things were going good most of the way even though most of our trail was shared with an ultra-marathon route. No big deal because there's not enough people to be dumb enough to attempt such a crazy endeavor so there wasn't that many people in pour way. Also I didn't feel too bad with breaking their stride as we squeezed by on the narrow sections of the trail. By the time we got to Goldbar, our path and the racers path finally deviated.
Now we had our 1st consistent climb, 1000 feet over 3 miles. Not too bad right? We were doing pretty good except for in my haste to follow a trail that headed downhill, I took the wrong route. That cost us an extra 1/2 mile and the route we were on had steeper grades and a longer distance to traverse to get us where we wanted to go. So we had to cover even more ground than originally planned. But after a lot of breaks and walking we made it to the top. Everyone was in a better mood...sorta.
I have been in good riding shape most of the year but the others strength was waning. Luckily we ran into a group of crawlers and they were gracious enough to part of their substance to us and helped us to refuel. Pat was worried his strength wasn't going to be enough to get over the next 4 miles of brutally technical terrain so we stumbled across another group in a side-by-side and Pat hitched a ride down. I felt bad ditching him but there wasn't enough room in the side-by-side and the sun was moving towards the horizon pretty fast. Needless to say Tom and I didn't stick around and we bolted for the bottom.
With sun fading fast we finally made it to the Portal trail. I have wanted to ride this trail for some time and this was pretty much the only reason I wanted to come down to Moab. See what I'm talking about...
Luckily I still had some energy left in my tank for the final 2 miles and 1300 ft of dropping down in to some gnar. This trail isn't something you take lightly. The first part of the trail is exposed to a 200 ft cliff! Yikes! One endo over a big drop on the trail and you're toast.
But those views!
The next mile or so was the funnest I had the whole trip. The trail was fast and challenging. I had to walk some sections but I am confident I will get back there and slay the whole thing next year. I was bummed Pat missed out.
As we got back down we were expecting Pat to be waiting on us but he wasn't. We drove to the Poison Spider entrance and we waited there a bit. I got antsy and climbed up the road a mile or so. Still no Pat and I was beginning to think maybe he went into town with his new found buddies. After texting/calling we finally met up after over an hour after Tom and I reached the bottom.
It turns out it was a good thing Pat went with them because these guys had no route finding skills or driving skills for that matter. I will let him tell the story.
Finally after having a very disappointing BBQ dinner in town, we finally left Moab and I got home a 1:00 AM. I wouldn't recommend attempting a 4 hour drive after a tough ride that this was but even though I was tired and grouchy I had a fun weekend. It's always good to get away even if it is for only one night.