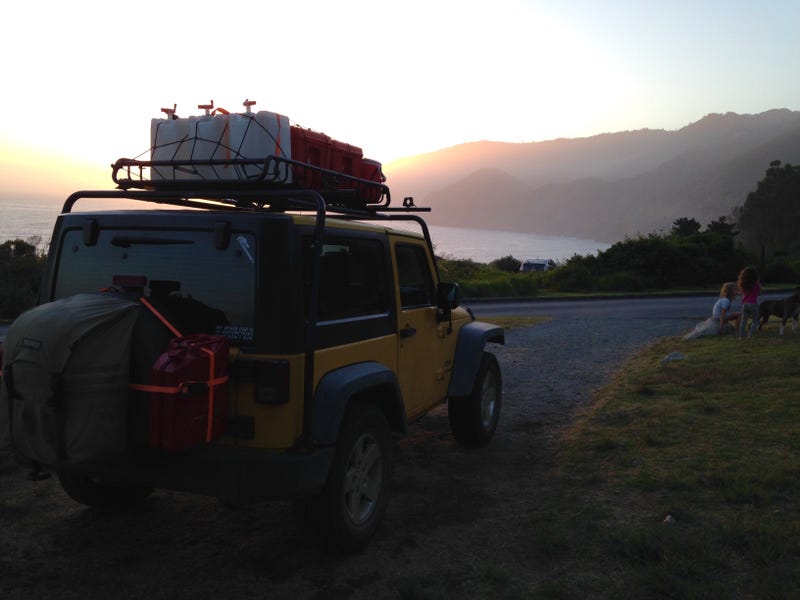 These trips always feel a bit surreal to me now. Away from home for weeks at a time while covering huge distances really instills in me a sense of insignificance. Pulling away from the familiarity and comfort of home makes me realize how much of the world exists outside of my little bubble. I like this feeling. It makes me feel alive. It makes me feel apart of something greater than myself. This feeling wasn't always there. When I was younger these trips felt much less special. I'm not sure why as I always enjoyed them. Road tripping across the West with my girlfriend to go pick up a $200 motorcycle, or backpacking through western Europe for a month just felt like things I should be doing. They were still fun and exciting, but not in the same way.
This new type of excitement first revealed itself when my wife and I took our six month old and thee-year old backpacking across Europe one winter. I remember my wife and I continually staring at each other thinking, "what the hell are we doing?" It was a fantastic trip. Watching my daughter eat macaroons under the Eiffel Tower on Christmas nearly brought me to tears. Yeah, it was a bit rough at times, but the feeling of excitement I got traversing a foreign continent with my family was something I had never felt before. That realization that your progeny are be given an adventure that you never were. That hope that you're opening up their minds to experiences many will never have. It is a truly awe-inspiring feeling. We've taken many epic trips since that first one, dedicating most of disposable income towards that next big adventure. It was finally time for that next big adventure and that special feeling of excitement was back again.
Our adventure started on a Tuesday. A very hot Tuesday. The predicted high for the day was 122F. In order to avoid driving through a searing hot desert for eight hours, we planned on leaving extremely early in the morning. 3am early. Unfortunately, that didn't happen. It was already 90F when I woke up at 4am and quickly reached 100+ as the sun rose into the sky. I cursed the sun as I loaded up the roof of our Jeep, sweat pouring down my body. I went shirtless to avoid having to make the ten and a half hour drive to Big Sur in a soaking wet shirt. By the time I had the truck loaded and ready to go it was 7am. Damn. We would be driving through the desert at the hottest point of the day. The Jeep's cooling system was in good working order, but I was hoping to make this portion of our drive while the sun was still low in the sky.

I love driving, but there are a few drives that I absolutely hate. Driving west from Phoenix to the coast of California is one of them. You're treated to a very bland landscape, with very bland towns sprinkled in between. Despite the prospect of eight hours of our drive being extremely boring, I knew that a huge reward awaited us at the end of our first drive. With the thought of cool, rocky beaches on our minds, we set off on the first leg of our adventure towards Big Sur.
Thanks to a tip from TFritsch, I had a lead on a fantastic looking campground in Big Sur. This was probably the most well planned out road trip we had ever taken, with many of our first few campsites reserved for the nights we'd be arriving. In the past I would just wander around a national forest until finding a suitable spot. It was nice having a defined endpoint set for the first few legs of our journey. The drive through Arizona and California was mostly uneventful. We had a gift card for Einstein Bagels, so we decided to stop in Indio, CA, for some sustenance. Indio is a city composed entirely of hospitals, golf courses and old folks homes. The Einstein's there apparently operates by its own rules, and wouldn't take our gift card. We said screw you to Indio, gassed up at the Costco which was filled with old people spraying gas on their cars, and continued on towards the coast.
After slugging our way through those famously efficient California highways and their world renown drivers, we finally started to near the coast. Because of landslides along Highway 1, we were forced to cut through Fort Hunter Liggett along Nacimiento-Fergusson Road in order to reach our campsite. This was an absolutely beautiful drive. The winding road went from hilly plains into steep cliffs. As we wound our way through the mountains, the temperature quickly dropped from 100F down to 80F. To the dismay of my wife, the sun was beginning to set. I wound along the road as quickly as possible so as to make it to our site before sunset. It was at this point that I realized that I was very low on fuel, and that I probably wasn't going to find a station along this rural road. I had ten gallons of fuel strapped to the spare tire, but I knew we'd miss the sunset if I had to stop and unstrap them to fill up. As I babied our yellow brick through the hills, my distance to empty gauge went from "30 miles", to "Low". Well, shit. We still had about forty miles to go.

Upon finally reaching the summit, I popped the gear shifter out of gear, and simply coasted down the hills. It was do or die, as there weren't many spots that I'd be able to fill up along this steep and winding road. It was up to gravity at this point. This was one of the most beautiful roads I had ever driven. We wound through forests, the ocean peaking at us around every other bend as the fog began rolling in. Coasting down the hills into Big Sur as the sun was setting, after what turned out to be over an eleven hour drive, was extremely relaxing. By the time we made it down to our site, the temperature had dropped into the sixties. I was glorious. Thanks to it being the summer solstice, we still had about ten minutes left until sunset. We were treated to a show as we unwound from our jaunt out of the desert. It was clear to us at this point that this was going to be an epic adventure.