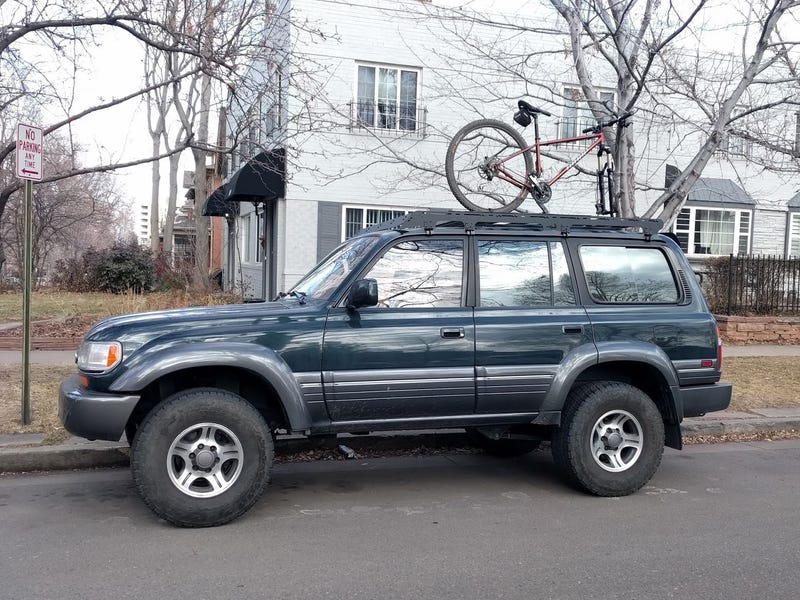 The objective here is to inform some others who are new to or who may be considering the purchase of a 1990's cruiser. If you're not hunting for one, the objective is for some time-killing entertainment- so enjoy. Like so many other things, this isn't a be-all end-all but rather a collection of things I've had to do. I'm sharing with the hope that it helps others who are or will be in my situation.

I spent a great deal of time reading up on many different vehicles (80 series, 100 series, 60 series, Samurai, Tacoma, Range Rover Classic, Joop XJ CJ TJ YJ SJ, Isuzu Trooper, and a few I'm forgetting.) And I visited a great many corners of the interwebs before deciding on an 80. I came across countless threads on what to look for, what to baseline, when and what to flush/change, etc etc. If I'm being entirely honest, the huge support and culture backing the Land Cruiser series was extremely comforting. The community did have a measurable impact in our decision making process. Some of the better bits of wisdom are posted here for reference.
http://sleeoffroad.com/newbie/newbie100.htm
For those unfamiliar, the 80 Series Land Cruiser (USA- 1991-1997) is to SUVs as the Supra and 300ZX are to sports cars. It's supremely well thought out, has all the features and advanced options of the time, and in all honesty, probably has no right to be as good as it really is. A boxed ladder frame, solid axles with a closed-knuckle birfield steering joint, full time 4-wheel drive and optional front+rear differential lockers, four coil springs, four disc brakes with quad-piston front calipers, and a transmission from a bus. It's all powered by a forklift motor and Toyota's biggest ever inline 6 cylinder: the 4.5L 1FZ-FE with EFI, dual overhead cams, 24 valves, and a timing chain for extended service and reliability. The 80 is a well documented machine- any quick searches will yield copious results.
---
I spent about two years crawling online postings for vehicles. Finding one with minimal rust was paramount as I'd decided that I would be doing as much of the maintenance as I could. This would allow me to have a better knowledge of the truck in case it had a serious failure in a remote location.

Enter: The 80. As it was when we first met.
I picked it up in a private sale in June 2016. It's affectionately named the Four And a Half as per the Notorious BIG. It came with 132,000 miles and was entirely stock apart from some essentially new 305/70R16 tires. I got the sense that the previous owner had big hopes and dreams that just never really panned out. I think he put about 3k miles on it in two years of ownership. He seemed like an upstanding honest guy but had no paperwork, no documentation, and was the type to sorta shrug and say "I dunno, I took it to XX place and they did stuff and things to it." It was a bit of a gamble but too clean to pass up.

In the past 11-ish months, we've put just a hair over 20,000 miles on it. I'll preface this with my fond appreciation of following the factory service manual to a T. Torque spec is life and if some questionable associated bolts/washers/pins in the parts diagram are under a dollar, I'll often replace them to reduce risk of dealing with a stripped fastener in the future. I like to keep extensive documentation to make my life easy.
Last tire rotation? Eh, I dunno. CTRL+F. Oil change? CTRL+F. You get the idea. So, here's the skinny:

Since purchasing it, I have installed/changed/done:

New spark plugs, plug wires, dizzy cap and rotor
Engine oil, filter, and crush gasket
Oil filler cap gasket
Differential and t-case oil and crush gasket
Transmission fluid and crush gasket
Front crank seal, oil pump seal and screws
New belts and idler pulley.
Coolant
OME 50mm lift (Shocks, springs, steering damper, 2 degree bushings)
Replaced all (except dashboard) lights with LED
Front window runs and door belt molding
New Slee tie rod, Slee drag link and all 4 ends
Rotate and balance tires
Fusible link
New battery
Reman'd Denso starter
Weathertech floor mats (totally worth it)
All new pads, shims, springs, etc.
New front rotors
Brake fluid flush
$15 Hilux hood prop because I'm not paying $200 for hood struts.
Full knuckle rebuild- all new seals and bearings, knuckle studs, etc.
Washer bottle relocation and second battery tray
Air filter replacement
Install a radio head unit and 4x speakers
Double-stack in-dash CB + antenna mount
Prinsu Roof rack after removing factory rack. Probably could have gone without, but group buy made it difficult to pass up.
Slee Sliders
Other small and misc maintenance as required
For a total of… drumroll... $6,555.86. $5,749.86 without the roof rack.

Breakdown:

$1089.00 in labor costs were for jobs that I either lacked the tools, space, or time to process myself. This includes alignments, tire balancing, shocks/springs ($518) for which I didn't have a workspace, as well as a front of engine service (crank seal, oil pump gasket, belts, idler pulley) replacement ($316) for which I was too short on time.
$3522.86 in parts includes all of the parts purchased for the above labor jobs as well as everything done myself. Examples include oil and filters, spark plugs, dizzy cap and rotor, light bulbs, wheel bearings, axle seals, pads and rotors, diff oils, and trans fluid.
$1944.00 in accessories is the leftover category. It's essentially anything deemed an unnecessary improvement. This list includes a roof rack, rock sliders, speakers, a radio, 2nd battery tray, and some differential plugs that I could have done without but were hella nice.
I know what you're thinking: "Holy shit that's a ton of cash! I thought Toyotas were supposed to be reliable as hell!" And I'm thinking that too. However, this machine is 20 years old at this point and this list has addressed close to 80ish% of common failures and neglected maintenance issues for the 80 series. This has put the Four and a Half to a place where I feel entirely confident taking it to remote and challenging areas and knowing that we won't be stranded. I'd rather make the same repair three times at home than try to sort it out for the first time in the backcountry. As a forum member put it: "[Baselineing] means getting your truck to a point where if anything else goes wrong you can say, 'well it's not the hose cuz I just changed that'."

We can collectively justify this because the Four and a Half has been rock solid for our duration of ownership. It's not only our transportation, but it's primarily our leisure and vacation. The ability to explore and travel with such ease and confidence has been mind-blowingly satisfying. There's no comparison to tossing your gear in, filling the tank, and immediately starting another epic adventure. And if we were to be renting a Joop or flying cross country multiple times a year, I've got no doubt that we would have already exceeded $6500 in cars, flights, hotels, and rental gear. Rinse and repeat? Rent it again. We still own the 80. And we plan on keeping it that way for a long, long time.